Submission of revised papers/abstracts
DEADLINE CAMERA READY REVISIONS JULY 22, 2020.
All submitted papers have been reviewed by at least two reviewers. Carefully consider all comments for the final version of your full paper to be included in LNCS. The revised version, including all source files, must be uploaded to Easychair before July 22 to allow us sufficient time for a proper check and final acceptance notification. Kindly note that the papers should be provided in the known Springer LNCS templates (see below). Moreover, we also request a cover letter indicating how you incorporated the reviewers' comments. All of that can be put together with the source files and a pdf of your contribution in a zipped file uploaded to Easychair. Moreover, note that to be included in the final program and LNCS, at least one of the authors must register for the conference as a presenter and indicate the corresponding Paper ID in this registration.
Call for papers
DEADLINE EXTENDED TO THE 25th OF MAY
ICCL aims at bringing together researchers and practitioners working in logistics to provide them with a platform to share, present, and discuss the latest advances in computational logistics-related topics. The works submitted at this conference covers methodologies and solution approaches for logistics, innovative platforms and applications, modeling and algorithmic procedures for enhancing logistics operations and decision-making, etc.
Authors are kindly invited to submit their contributions in the field of logistics involving operations research and management, decision support, artificial intelligence, and information systems. Practical cases providing insights and real-world experience are encouraged to be submitted.
Submitted papers will be peer-reviewed and be provided in the following forms:
Full papers for publication in Springer's Lecture Notes in Computer Science (LNCS).
Abstracts for presentation only.
The theme of this edition is Optimization and Artificial Intelligence in Logistics Management. Topics of the conference include among others:
Operations Research and Management in logistics
Routing problems
Emergency logistics
Reverse logistics
Crowd logistics
Freight transportation
Green supply chain
Metropolitan/city logistics
Smart Agro-Logistics
Uncertainty modelling in planning and control
Large-scale evolutionary optimization in logistics
Multi-agent systems in logistics
Self-organizing logistics
Internet of things in smart logistics
Artificial Intelligence in logistics
Machine learning applications in supply chain
Last generation ICT networks
Port smart logistics
ICT in logistics
Computational issues in foreign trade supply chains
Facility (re-)layout decision problems
Submissions
All papers should be submitted electronically following the instructions on this page and by following this link. The submission of abstracts and papers will be handled through ICCL easychair management system (link) and following the format described below.
Full paper submissions
Full papers should have a length between 8 to 15 pages following the LNCS style files. For a paper to be included in this volume, it should be presented at the conference by one of the authors. The style files for LNCS submissions can be found here. This site contains all relevant style files for CS Proceedings and Multiauthor Volumes as well as the Springer copyright form. Additionally, we kindly ask you to have a look at the "Checklist of items to be sent to the volume editor". The authors are required to use the submission form available here to:
Upload the pdf file of the 8-15 page regular paper in LNCS style on the Easychair platform.
Paste the abstract corresponding with the full paper in the textbox (maximum 3000 characters, including spaces) to be included in the abstracts booklet, which will be distributed during the conference.
Authors should consult Springer's authors' guidelines and use their proceedings templates, either for LaTeX or for Word, for the preparation of their papers in the following link. Springer encourages authors to include their ORCIDs in their papers. In addition, the corresponding author of each paper, acting on behalf of all of the authors of that paper, must complete and sign a Consent-to-Publish form (see below). The corresponding author signing the copyright form should match the corresponding author marked on the paper. Once the files have been sent to Springer, changes relating to the authorship of the papers cannot be made.
Extended abstracts, presentation only
Submitted abstracts should not exceed one page (maximum 3000 characters, including spaces). At most 4 references can be included. Mathematical formulas can be included in LaTeX notation. Accepted Abstracts should be presented at the conference by one of the authors. To submit an abstract, please go here and paste the text in the abstract textbox of the submission form. Do not upload a pdf file of the abstract. Accepted abstracts will appear in the abstracts booklet which will be distributed during the conference.
Special issue in Annals of Operations Research
Selected works from the conference will be invited to submit an extended version of their accepted paper to a post-conference special issue in Annals of Operations Research. This call is also open to authors that could not participate in the conference, provided the paper fits within the scope of this special issue and that an extended abstract of the paper has been approved by the guest editors; deadline for this extended abstract is September 20, 2020. More information can be found here.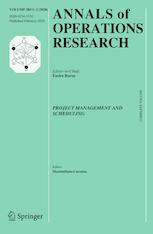 Ethical Requirements for Authors
All authors wishing to present a paper declare that:
The submitted paper is substantially original and there is not a content-wise similar paper submitted to any other conference or journal during the ICCL 2020 review period.
The paper does not contain any plagiarism.
The paper will be presented by the author or a co-author in person.
Special Sessions
Special session: Telecommunications Supporting Logistics Under Pandemic Crisis
In the middle of the COVID-19 world crisis, logistic operators and supply chain managers are faced with significant telecommunications challenges to provide speedy humanitarian and health response related to medical equipment, food and sanitarian commodities, supply chain connection and resilience, logistics assets maintenance, etc. On the other hand, the pandemic crisis also affects potential shortages in inventory and distribution within regional and global supply chains. In this context, telecommunications and ICT play a crucial role to monitor, control, and coordinate the efficient management of transportation and logistics operations while guaranteeing promptly responsiveness and cooperation. It also entails that they are aligned with companies' and governments' decisions and policies to provide reliable communication schemes and strategies permitting high logistics and workforce coordination levels. Technologies like cloud computing, IoT, 5G, among others are critical to building resilient or adaptive supply chains where a fast and coordinated response from the logistics side might be necessary.
To discuss and address problems related to the above-drawn situation, this session is proposed within the International Conference of Computational Logistics (ICCL'20, www.iccl2020.nl). Its goal is to investigate approaches and solutions from telecommunications and ICT to enforce supply and logistics networks in such a way that the main necessary logistics features needed in pandemic and large-scale emergency circumstances like flexibility, collaboration, and control are increased. This way, we aim at bringing solutions and approaches that do not have to be particularly innovative but effective and creative to permit quickly and confidently advances on this matter.
Topics of interest:
Digital supply networks
Telecommunication problems for enhancing pandemic related logistics
Agility and resilience supply networks
Smart logistics and industry
Emergency and humanitarian logistics
ICT alignment in crises
Telecom technologies applications, e.g., cloud computing, IoT, 5G
Optimization and algorithmic approaches
Network collaboration and coordination
Organizers:
Special session: Collaborative Freight Transportation
The trend towards connected and automated vehicles stimulates collaborative freight transportation which can embrace a large class of problems in transportation planning, pick-up and delivery, vehicle routing, distribution, drayage operations, etc. Freight transportation plays a significant role on economic growth of industries and meanwhile, is a major source of social and economic concerns on pollution, global warming, sustainability and safety. Consequently, involved companies in transportation sector, are forced to improve their performance and take heed of sustainability challenges. In this regard, collaboration among different parties, seems to be an influential solution. It can eliminate inefficiencies through interactions and joint planning leading to reductions in operational costs, congestion, carbon emission, underutilization and fierce destructive competition. These advantageous outcomes have given rise to emergence of platforms such as Uber (freight), Blackbuck, Lyft and Quicargo in transportation industry which generally perform as a central system connecting together carriers and demand points.
The literature body of the collaborative transportation is still young and growing which covers partnerships from operational level to strategic level. There exist five main streams in handling the problem, including: Cooperative game theory, non-cooperative game theory, agent-based modelling, combinatorial auctions and mathematical optimization models. These approaches outline different problem settings and provide promising performance in that context. By way of example, in cooperative game theory, different carriers form alliances that aim to achieve some goals jointly, while in non-cooperative game theory, carriers may belong to different fleets with different incentives making them reluctant to enter a coalition.
In this session, we will focus on conceptual frameworks that create new theories or extend, test and validate existing ones, case studies in a problem-driven environment which provide managerial guidelines and also models that incorporate either of the mentioned five streams. In short, this session aims to address key questions in collaborative freight transportation which include but are not limited to:
What are the key features of the problems for which collaborative transportation can improve the performance?
What are the main incentives of different stakeholders to join a collaboration?
How can different parties get motivated to form a collaboration?
How can we describe and measure the performance of different stakeholders in a collaboration?
What is the best-fitting approach to handle collaboration in a specific transportation problem?
How can the costs and profits of collaboration be shared among involved parties?
Organizers:
Nadia Pourmohammadzia (Responsible person), Frederik Schulte, Rudy R. Negenborn, Mekelweg 2, 2628CD, Delft, The Netherlands
Special session: Shared (Autonomous) Mobility
Shared mobility is the transportation sector's response to a recent paradigm shift towards the sharing economy of collaborative consumption. In contrast with traditional ownership models, shared mobility systems entail the temporary access of underutilized physical assets (e.g., cars, bicycles, scooters) by multiple users, either sequentially or in parallel, on a pay-per-use or subscription basis. With the widespread adoption of information and communications technology (ICT), the phenomenon has become mainstream, and is facilitated through digital platforms. Improving efficiency in asset utilization, such innovative forms of market interaction between suppliers and consumers, represents a sustainable solution to mitigate increasing challenges in cities concerning traffic and parking. Ideally, by having an array of shared mobility options that complement both each other and public transportation, users would be able to select an adequate solution for each occasion.
This session welcomes contributions addressing modeling, methodological, or game-theoretical aspects of implementing sustainable, efficient, and convenient shared mobility services. We aim to present original as well as innovative applications that explore current and upcoming technological advances, such as vehicle automation, to improve the status of urban transportation. Topics of interest include, but are not restricted to:
shared mobility services
scooter, car, and bike sharing
ride sharing and ride hailing
carpooling
user-based operations in sharing systems
dynamic pricing in shared mobility
vehicle repositioning
Organizers:
Breno Beirigo (a) (b.alvesbeirigo@tudelft.nl) (Responsible person); Transport Engineering & Technology, Delft University of Technology, Delft, the Netherlands
Frederik Schulte (a) (f.schulte@tudelft.nl); Transport Engineering & Technology, Delft University of Technology, Delft, the Netherlands
Kevin Tierney (b) (kevin.tierney@uni-bielefeld.de); Decision and Operation Technologies Group, Bielefeld University, Bielefeld, Germany
Special session: Representing Behavior and Uncertainty in Freight Transportation
Freight transportation is challenged by the trends of smaller inventories, shorter lead times parallel to the e-commerce developments. The transportation solutions need to be responsive to these changes with capabilities of real-time adaptations to newly received demand and supply information in the system. This will be achieved if the uncertainties in the system are modelled and taken into account early in the planning phase. Moreover, in order to have an efficient chain of operations in the overall freight system, the analysis of objectives and preferences of the involved decision makers is critical. The coordination and potential collaboration among them will be beneficial only as a result of such analysis. Therefore, in this session, the research on the modelling of uncertainty and the behavior of involved decision makers in the freight transportation system is brought together. The talks may be focusing on optimization models dealing with uncertainty or behavioral models estimating and predicting the preferences of decision makers or both. All application areas within freight transportation are welcome including urban logistics, intermodal, maritime, hinterland, synchromodal transportation etc. Topics of interest within freight transportation include, but not limited to:
Decision making under uncertainty
Real-time and/or predictive optimization models
Dynamic and/or stochastic optimization models
Behavioral models
Agent-based models
Organizers:
Bilge Atasoy, TU Delft, Department of Maritime and Transport Technology (b.atasoy@tudelft.nl).