ICCL2021 in a nutshell
Conference that brings together researchers and practitioners working at the interface of large/complex logistics systems and advanced computational methods from the fields of Operations Research, Business Analytics, and Artificial Intelligence.
Special Issue Theme
Authors are invited to submit full papers for publication in Springer's LNCS. A selection of papers will be invited for a special issue in a scientific journal (to be announced). The theme of this special issue: Artificial Intelligence for Logistics Management.
Important dates
Submission deadline full papers: May 28, 2021
Notifications of acceptance: July 2, 2021
Deadline revised camera-ready papers: July 23, 2021
End presenter registration: August 6, 2021
Conference days: September 26-29, 2021
Venue
Depending on the situation, the conference will be held online, at the University of Twente, or in a hybrid form. Ideally, we meet at the hotel and conference center U Parkhotel, located at the beautiful campus of the University of Twente, surrounded by parks and high-tech businesses.
Bringing together researchers and practitioners in the field of Computational Logistics to present their latest results and findings in a fruitful and open-minded environment.
Computational Logistics comprises the planning and implementation of large/complex logistics tasks using computations and advanced decision support systems. It is applied in various areas, such as the flow and storage of goods or services as well as of related information from their source to their destinations. Typically, optimization models and algorithms are developed, verified and applied for planning and executing complex logistics tasks, e.g., for finding the most efficient scheduling/plan for the transport of passengers or goods. The models and algorithms are integrated with advanced computer technology to get satisfactory results in appropriate time even for large scale problem instances and providing interactivity, visualization etc., for a better understanding and problem solution. Computational Logistics also involves the use of information systems and modern communication and information technology (IT) for the design, planning and control of logistics networks as well as the complex tasks within them.
Topics to be covered include (but are not limited to):
Operations Research and Management in logistics
Routing problems
Emergency logistics
Reverse logistics
Crowd logistics
Freight transportation
Green supply chain
Metropolitan/city logistics
Smart Agro-Logistics
Uncertainty modelling in planning and control
Large-scale evolutionary optimization in logistics
Multi-agent systems in logistics
Self-organizing logistics
Internet of things in smart logistics
Artificial Intelligence in logistics
Machine learning applications in supply chain
Last generation ICT networks
Port smart logistics
ICT in logistics
Computational issues in foreign trade supply chains
Facility (re-)layout decision problems
Contact
Conference location
Depending on the situation, the conference will be held either online or physically at the University of Twente, U Parkhotel, De Veldmaat 8, 7522 NM Enschede, The Netherlands.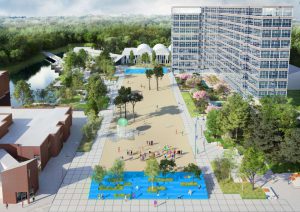 Conference organizers
- Eduardo Lalla-Ruiz
- Martijn Mes
- Stefan Voß